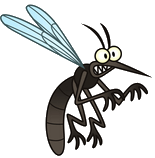 Do you love camping, hiking, fishing, biking or just enjoying the great outdoors, but hate the mess and harsh chemicals of DEET and other chemical repellents? We have the solution!
Our Shoofly All-Natural Bug Repellent products contain no harsh chemicals, instead using a gentle, but powerful blend of eucalyptus, basil and cedar oils to keep you safe from outdoor pests like mosquitoes, black flies, deer flies and most biting insects. Gentle enough to be used on skin, hair and clothes, our Shoofly products provide safe, natural and effective outdoor protection for the whole family.
Available as a soap or a spray, our Shoofly All-Natural Bug Repellent keeps the bugs from biting and lets you get back to enjoying the outdoors...naturally!